This post provides current news and brief insights on social prescribing and arts and health, shares a practical Wellbeing Residencies Handbook published in March by Rigas Cirks, and other useful links around social prescribing and arts-led interventions.
International Social Prescribing Conference
March 2021 saw the 3rd International Social Prescribing Conference, Social Prescribing and Community Beyond the Pandemic, where Sir Tim Smit, creator of Cornwall's Eden project, shared his view that the movement known as social prescribing will radically alter the ways in which we perceive and manage distress and illness. This vision clearly connects with contemporary understandings of the physiological effects of adversity and trauma on the body and the ways in which wellness can be achieved.
In 2018, Sir Tim said about the NHS, "one of the problems with working this hard is that we have little time to imagine or effect how things can be done differently. The social prescribing route is a good example of having permission to do things differently and show the benefits." 
Sir Tim has also said that "cool things happen when they sneak up on you." Marie Polley, Co-Chair of the Social Prescribing Network, opened the conference: "Social prescribing is not something new, it's creating an architecture to connect everything that already exists and putting humans at the centre."
It has been sneaking up on us forever.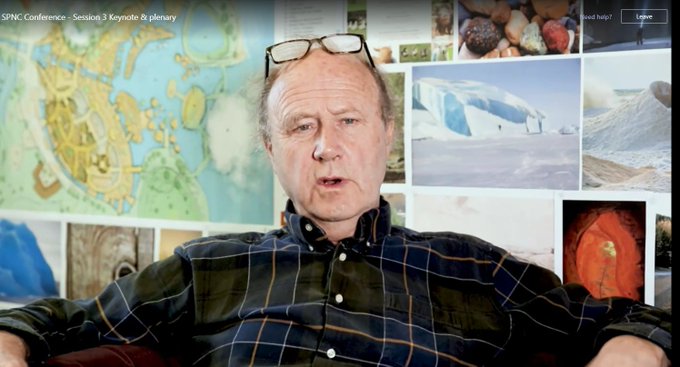 In 2021, Sir Tim says that within 20 years this work will be seen as completely fundamental to how we see ourselves as humans. Towards this broadening of our understanding and management of health and illness, we at GM i-THRIVE Arts, Culture and Mental Health Programme are working with public health colleagues who wish to consider arts and cultural options in their programmes.
National Centre for Creative Health
The National Centre for Creative Health is now active, building on the Creative Health report, 2017.  The Centre will advance good practice and research, inform policy and promote collaboration, helping foster the conditions for creative health to be integral to health and social care and wider systems.
Arts for Health Director Clive Parkinson will publish his report A Social Glue in May 2021, bringing further clarity and recommendations for arts and health in Greater Manchester.
Senior political backing also came from GM Mayor Andy Burnham who stated that he is "personally convinced that social prescribing is the right answer to 21st century health."
The key now is to move social prescribing from short-term funding to long-term, sustainably resourced partnerships between the health sector and delivery organisations. The proliferation of 'social prescribing' and a return to community-led public health strategies brings with it challenges and the need to learn from one another, and from trying things out, with attention paid to managing risk, appropriate governance and accountability.
The potential of the collaboration between arts and
social and health care institutions
Well-being residencies are forms of artist residencies, organised in collaboration with a social and/or healthcare institution, for example a youth centre, prison, hospital, or residential home. Although located in care settings, much of the theories, procedures and lessons in these efforts are highly relevant to social prescribing, as an aim is to bring people from different circumstances and training backgrounds together to collaborate with individuals and communities to support wellbeing. 
 A result of a European two-year international think tank involving conferences, study visits and residency try-outs, Rigas Cirks' Wellbeing Residencies Handbook is published this month. The Handbook helps navigate the well-being residency process. I had the pleasure of editing this Handbook and working with the team led by Mara Pavula.
The Handbook is a guide for artists, art residency organisers and any third party to prepare for a well-being residency, and explores ideas and inspiration for others who would like to take the step and start building their own well-being residency.
The Handbook ends with a series of case studies from partner countries Latvia, Finland, Russia and Sweden, including a well-being residency at SOS Children's Village Graši, Latvia and a well-being residency with interns at Juvenile Detention Centre Luleå, Sweden.
Download the Handbook here.
Articulating impact
Request a copy of the GM i-THRIVE Youth Mental Health Arts and Culture Evaluation Kit to demonstrate impact using mixed methods – free to use and database available to organisations within Greater Manchester.
Read more.. and get involved
If you would like to connect to your regional social prescribing facilitator or regional learning coordinator please email: england.socialprescribing@nhs.net
You can also find out more about NHSE support for social prescribing link workers here: https://www.england.nhs.uk/personalisedcare/social-prescribing/support-and-resources/ an online private platform for link workers to connect and access resources.
Email england.socialprescribing@nhs.net for more information.
The Social Prescribing Network
The National Centre for Creative Health
Join GM i-THRIVE as an Arts, Culture and Mental Health Ambassador
The Manchester Institute for Arts, Health and Social Change
The pop-up Institute for Social Prescribing The South West Academic Health Science Network (SW AHSN)
Read this insight report which has been informed by the work of the Institute for Social Prescribing over the year to September 2020.
Children and Young People
A two-year evaluation of the Young People Social Prescribing pilot: project report
Street Games
Harnesses the power of sport to create positive change in the lives of disadvantaged young people across the UK.